Ostrich
Orthodox Inquirer
I received several private messages asking for details on a comment I made about chickens and it was suggested I share publicly so I am re-posting here.
I inspected a chicken farm for a job. The farmer drove me around it and at the very end we got to the chicken coop where they keep all the birds. He said you can go inside and look but I'm not going in there--I won't be able to breathe right for 2 days if I go inside. Something about dander and debris.
This factory produces chickens.
I opened the door and it was pitch black--actually after a few seconds I noticed some dim 10 watt light bulbs up in the ceiling every 10 feet or so. I took a flash photo with my camera and returned to the farmer. I asked him about the darkness and he said they keep the room dark so the chicks always think it is night so they never walk around and develop a skeleton--when it comes to processing they have rubbery bones and the meat can just be squeezed right off like a tube of toothpaste. He also said taking my flash photo probably gave a few of them a heart attack since they never see light.
Then there was this box that looked like a library book return. That was for the dead carcasses. I can't remember the number but I believe they found 3 or 4 dead chickens every morning. They are scooped up and placed in that box, and then someone buys them for fertilizer. The number of deaths was pretty shocking, but it didn't matter to the farmer because of the next point:
The chickens you are eating are 6 WEEKS old.
80% breast meat, 20% chicken
The normal lifespan of a chicken is several years. But these farmers are raising these chickens to have enormous breasts -- so big in fact that they cannot walk well -- and grow to full size in 6 weeks. How do they do this? Well in the old days our grandfather would go to the feed store and buy chicken feed. These days, if you are a chicken farmer, you either work for McCormack or Tyson, and their contract specifies that they deliver a mystery food to you, and you use that to feed the baby chicks.
The farmer is really just the caretaker, babysitter, if you will, in raising the chickens. He gets baby chicks delivered by Tyson, food delivered by Tyson, and his only job is to return them to Tyson 6 weeks later, and he is paid a flat rate per pound (as I recall, around a dollar a bird).
Who knows what is in that mystery mix. Anyway if you are eating beef, at least it is a few years old, and has been walking around in a field and eating grass or GMO corn, and getting sunshine. Chickens are basically frankenfoods.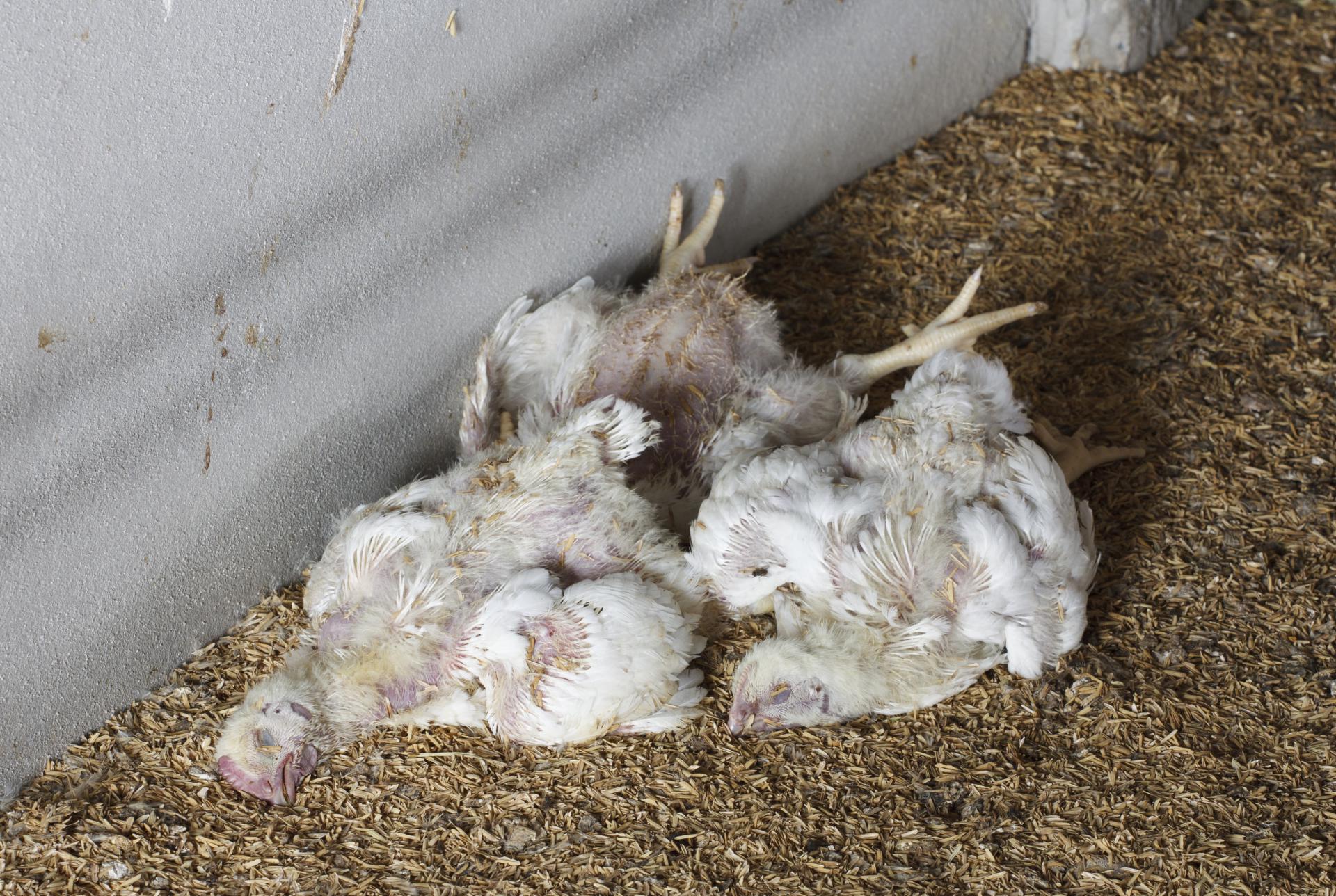 A daily occurance at the chicken house.
The final point was learning how many of these frail chickens die in transport. They are so weak and sickly and simply unaccustomed to things like sunlight and wind that a good portion of them, from 1% to 6%, just die in transport from the shock.
Around that time I visited Ecuador and ate an absolutely delicious omelet made from "huevos del amor" which are basically the natural free range eggs versus the factory farmed ones. The quality was night and day to our eggs. Then I tried their chicken, and realized what I had been eating back home was not chicken, but some poor frankenfood immitation of the bird.
Bottom line is I find it extremely unhealthy and the nutrient level must be abysmal under those circumstances. If you could buy directly from a farmer it might be ok, but as the Ag Commissioner told me "We raise over a billion chickens a year here. Maybe 10,000 are free range."
I heard some horror stories from rancher friends about beef, but they still eat beef (at the one Montana restaurant that serves their own ranch's beef)). The chicken farmer didn't eat chicken at all.
I gave up chicken for a long time. About a year later, I was on a group camping trip, and we stopped in a fast food restaurant where the only item on the menu without chicken was a mushroom appetizer, so I ordered a chicken quesadilla. An hour later, when walking to the campsite, I was overtaken by diarrhea so strongly and suddenly that I had to drop my pants and defecate just off the path. Your body grows accustomed to many toxins if you consume them regularly, but if you eliminate them, and then eat them again, you will have a strong reaction. I do eat chicken occasionally (a friend had a BBQ last weekend and there was only chicken, so I ate it and it was fine) but in general
our chicken is not nutritious, not tasty or flavorsome, not healthy, and should be avoided.