debeguiled said:

nomadbrah said:

DamienCasanova said:

nomadbrah said:

If it was muslims or someone else who burned it down.

It doesn't matter, the real loss is that it is impossible to rebuild.

No architect exists who wants or knows how to build the beautiful or the sublime, they only know marxist brutalism.

No stone masons, glass workers, sculptors exist, they've all been replaced with chinese steel and glass.

No spiritual rulers who understand the need for the divine and everlasting.

No artists to paint the portrait and paintings, they only paint ugly degenerate images.

Tell me about the superiority of modernity, once the rebuilding efforts fail.

:facepalm:

Diverse architecture?

A mosque? A mud castle?

Nothing like a little Brutalist architecture to bring you closer to your maker.

Like this church in Austria:

https://www.archdaily.com/886994/the-bizarre-brutalist-church-that-is-more-art-than-architecture
Those kinky Oesterreichers! Always trying to out do the Germans.
Austrians are quaint people. They are like the Central European version of the Dutch. Don't know what they want. All inclusive. Intimidated by their neighbours. Want to set themselves apart, while they don't have such a strong identity.
They are weirdos. Just like the Dutch.
But they take great pride in their architecture.
But it's not possible to build structures like this any more:
So they resort to this kind of Brutalism.
I like Brutalism. But just like the commies, it was never done quite right!
Ironically (or not), the school of Brutalism is French in its inception. The term being 'coined' by the British to describe concrete structures. It has nothing to do with being 'brutal'.
https://www.designingbuildings.co.uk/wiki/Brutalism
The term 'brutalism' was coined by the British architects Alison and Peter Smithson, and popularised by the architectural historian Reyner Banham in 1954.
It derives from 'Béton brut' (raw concrete)
and was first associated in architecture with Le Corbusier, who designed the Cite Radieuse in Marseilles in the late-1940s.
I lived among some of the most beautiful Brutalist architecture in my time in London. I have a deep love for it. But it never was done right. Not as good as it could have been, anyway.
Having said that, it gave rise to some real monstrosities. See South American Brutalism.
https://www.archdaily.com/880919/10-iconic-brutalist-buildings-in-latin-america
But then again, whilst being monstrosities, they were some of the best works ever done. The two go hand in hand. It's why I like it.
I love cold hard concrete spaces. To be filled by light. And by great furniture. Water. Sound. The human imagination. Protected by those big concrete walls. No sound penetrates. No light. Only what you want to let through. Protected from the elements. No rain or water, no wind, no storm. Cavemen would have killed to have lived in a moulded concrete cave like this, for that is all they are. And I like that. But I'm a savage. It's not for everyone. I just see it as a passing point until we can build real homes, real structures to live in.
But that Austrian stuff is just trying to be too clever. Trying too hard. As Austrians are wont to do. They suffer from the same autism the Germans do, but at the same time want to buy in to the whole Anglo thing (UK/US) and to be part of that whilst being above it as well.
They are confused. They want to be the vessel, whilst being what is inside the vessel at the same time.
It makes for a heady mixture.
Star Wars?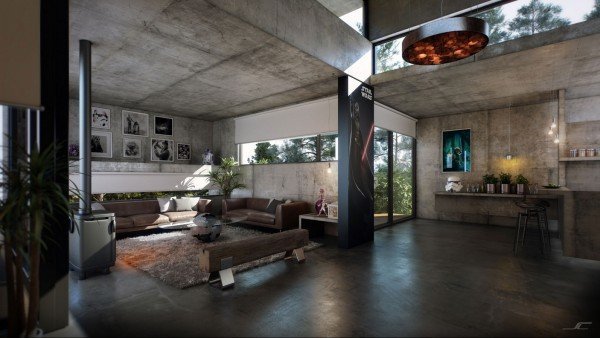 [img=750x550]
https://www.pocobuildingsupplies.com/wp-content/uploads/2015/05/star-wars-themed-room-2.jpg[/img]
In the future, the best architects will come from Austria.