Robin
Woman
Other Christian
I have had some weird experiences with the standard western medicine and the woo woo practitioners with my husband's health but it seems the issues of spiritual and philosophical underpinnings are esp strong with childbirth. Interesting.
I agree, and I think many women who are irreligious or "casual Christians" either are not bothered by these elements, or don't wonder the "why"s of it.
As for myself, when I had my first child I would have already said that I was a Christian, but the level of discernment needed to see through these practices was not there. During my second pregnancy, when we hired the midwife, was when I
really
started exploring these topics. Something about these things just seemed inherently wrong, but there was nothing online that put together all the pieces. While I was upfront about not desiring to take part in these practices, the lie of it all being "optional" decieved me, and I have to admit that I was very foolish to have risked the possibility of hurting my child this way, whether physically or spiritually.
Women should be cautious who they allow into their home. Sirach 11:29
I agree.
Something I would like to add is that reviews on review sites like yelp on these midwives may be skewed in their favor. While I would love to leave a truthful and accurate review about my experiences, my husband cautioned me from doing so, as this woman practices witchcraft, has been in our home and knows where we live and other personal information, yet we know virtually nothing about her (except her name and that she's "licensed"). It's not unthinkable that other women who have had negative experiences have also remained silent, especially as there is a lot of brainwashing involved.
This is exactly how manipulative hospitals and doctors can be with women (I don't doubt there are midwives who do the same, btw). All they have to do is tell a woman if you don't do xyz your baby will die right now.
I'm not sure what you mean by "this" because you quoted my entire reply to you, but I'll try to make sense of it from the context of the rest of your reply. But first, I just had to address that if doctors
do
engage in these manipulation tactics, that midwives also engage in, in the end it is the hospital that has the surgical equipment
if
it becomes necessary. And most of the midwife manipulation is in the form of
don't
do xyz that makes medical sense, but instead engage in cannibalism or sexual perversion.
some doctor confession stories years ago and some OBs admitted to using scare tactics to get their patients to have a c-section so they can make their plane flight in time, etc., awful stuff like that. Unnecessary procedures and coercion happen all the time in medicine, but especially with women's pregnancies
I agree that the system is flawed, and I know firsthand that doctors can try to rush things in order to get to their next whatever. It's not something I had mentioned in my original birth story post, but that doctor had informed us that she had somewhere to be and we could use the forceps to speed it up. But I declined, and was not forced, though it did make me very angry at the medical system and was one of the factors in seeking out an alternative.
Also, I don't know how old that story is, or if it's different in every state, but I will say that after they cancelled the c section that I had originally been scheduled for they absolutely refused to give me a c section, no matter what. Apparently hospitals are trying to have the lowest c section rates possible for whatever bureaucratic reasons, and now it can be difficult for a woman to get a c section unless absolutely necessary. As I said, location may play a part.
Looking back at my emergency c-section, it's possible that my baby just needed to be shifted or might have wiggled himself free of the umbilical. I'll never know. And if a different doctor that I didn't trust had told me I needed a c-section, I might have said "no."
You're right, there is no way of knowing after the fact. But I do know that without continuous monitoring (which they can't do at home) there is no way of knowing
if
the baby is in distress. So therefore, no way of knowing if you need to shift positions.
Just going by my two hospital birth experiences, if the heart rate was dropping the first plan of action was to shift to different positions and see if it recovered. It was definitely the opposite of "ok, let's go to surgery!"
It also makes a difference
when
the heartrate is dropping, relative to the contractions (early, variable, and late decelerations) which is impossible to determine with a hand-held doppler or worse an old school fetoscope, which is what homebirth midwives have.
"Intermittent variable decelerations are generally not associated with adverse perinatal outcomes, and they often do not require treatment. Recurrent variable decelerations, where the decelerations occur with 50% or more of the contractions, are less common and more concerning."
"The primary etiology of a late declaration is found to be uteroplacental insufficiency. Decreased blood flow to the placenta causes a reduced amount of blood and oxygen to the fetus."
Pregnancy and childbirth is inherently risky, whether at home or in a hospital. There are different risks to either choice. There is nothing "safe" about childbirth to begin with
I agree that childbirth is inherently risky. Midwives say otherwise.
At a hospital, there is a higher risk of having a cesarean (which is common sense since surgery cannot be performed at home), and higher episiotomy risk or instrumental delivery. But at home there is a 3 times higher chance of the baby dying and even higher chance than that of the baby suffering brain damage.
From link:
"A meta-analysis of outcomes from home births and hospital births shows that women who give birth at home do have
fewer procedures and complications
—but their newborns are
three times more likely to die
."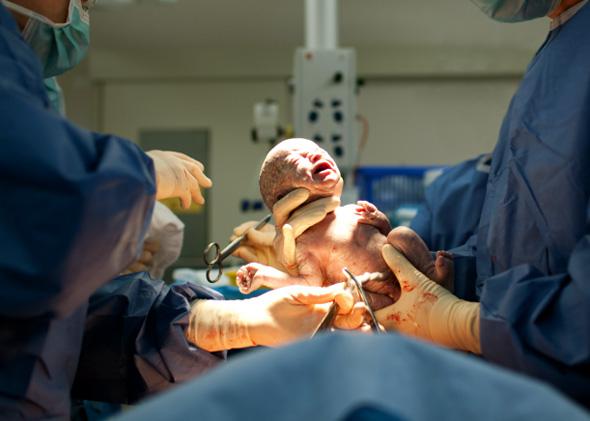 Read the rest of Laura Helmuth's series on longevity.
slate.com
And if anyone wants to read a more "scholarly" publication:
"Of concern, this investigation identified a doubling and
tripling of the neonatal mortality rate
overall and among nonanomalous offspring, respectively, in planned home compared to planned hospital births. This finding is particularly robust considering the homogeneity of the observation across studies. It is
especially striking as women planning home births were of similar and often lower obstetric risk than those planning hospital births
."
"Women, particularly low-risk parous individuals, choosing home birth are in large part successful in achieving their goal of delivering with
less morbidity and medical intervention
than experienced during hospital-based childbirth. Of significant concern, these apparent benefits are associated with a
near tripling of the neonatal mortality rate
among nonanomalous infants."
We sought to systematically review the medical literature on the maternal and newborn safety of planned home vs planned hospital birth.
Let's not forget… medical errors are the third leading cause of death in the US. And after all this COVID baloney, I don't see how anyone can willing check themselves into a hospital anymore knowing full well how the medical profit scam works and how, once you're in there, your bodily autonomy is completely in jeopardy.
Because they want their baby to have a higher chance of not dying a preventable death?
And honestly, that statement sounds just as much as "birth shaming" as me saying that woman was foolish for valuing her experience over safety while having high risk factors. Just saying.