Currently, Musk is dating pop singer Grimes, the rebound after his relationship with Amber Heard. Grimes looks a bit alternative.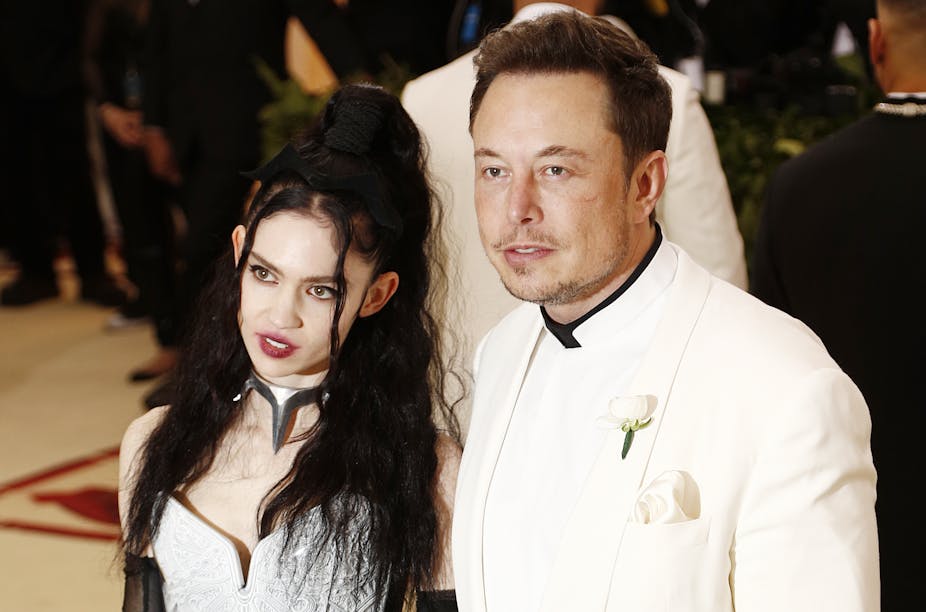 Grimes invited fellow singer Azealia Banks to Musk's house to collaborate on some music. Grimes flaked on her, angering Banks enough that she spilled the beans about Musk based on what Grimes told her in private. Highlights:
"Pabst beer pussy methhead junkie"
In a new interview (worth the read), looks like what she said matched his business difficulties and his use of recreational drugs.
Elon Musk was at home in Los Angeles, struggling to maintain his composure. "This past year has been the most difficult and painful year of my career," he said. "It was excruciating."

The year has only gotten more intense for Mr. Musk, the chairman and chief executive of the electric-car maker Tesla, since he abruptly declared on Twitter last week that he hoped to convert the publicly traded company into a private one. The episode kicked off a furor in the markets and within Tesla itself, and he acknowledged on Thursday that he was fraying.

At multiple points in an hourlong interview with The New York Times, he choked up, noting that he nearly missed his brother's wedding this summer and spent his birthday holed up in Tesla's offices as the company raced to meet elusive production targets on a crucial new model.

Asked if the exhaustion was taking a toll on his physical health, Mr. Musk answered: "It's not been great, actually. I've had friends come by who are really concerned."

The events set in motion by Mr. Musk's tweet have ignited a federal investigation and have angered some board members, according to people familiar with the matter. Efforts are underway to find a No. 2 executive to help take some of the pressure off Mr. Musk, people briefed on the search said. And some board members have expressed concern not only about Mr. Musk's workload but also about his use of Ambien, two people familiar with the board said.

For two decades, Mr. Musk has been one of Silicon Valley's most brash and ambitious entrepreneurs, helping to found several influential technology companies. He has often carried himself with bravado, dismissing critics and relishing the spotlight that has come with his success and fortune. But in the interview, he demonstrated an extraordinary level of self-reflection and vulnerability, acknowledging that his myriad executive responsibilities are taking a steep personal toll.

In the interview, Mr. Musk provided a detailed timeline of the events leading up to the Twitter postings on Aug. 7 in which he said he was considering taking the company private at $420 a share. He asserted that he had "funding secured" for such a deal — a transaction likely to be worth well over $10 billion.

That morning, Mr. Musk woke up at home with his girlfriend, the musician known as Grimes, and had an early workout. Then he got in a Tesla Model S and drove himself to the airport. En route, Mr. Musk typed his fateful message.
https://www.cnbc.com/2018/08/17/musk-details-excruciating-personal-toll-of-tesla-turmoil.html
Looks like his ambition caused him to do too much. Will Grimes stay with him? Doubtful. Maybe he should have stayed with his original wife.