Woodpecker
Orthodox Catechumen
Despite having a democratic system of government and close relations with the United States, India has an equally close partnership with Russia despite the latter country having warm relations with India's rival China. This otherwise paradoxical situation is but a reality of the complexity of geopolitics in the 21st Century, because, as any astute student of history will observe, that major powers are ultimately driven by their own self-interests and alliances were more often than not driven by economic or political incentives alongside ideological motivations.
In the context of the ongoing Russian invasion of Ukraine, the government of Modi has not outright opposed or condemned Putin's decision to wage war, instead relying on plausible deniability and going on a general wish for peace and cessation of conflict.
Will India's strategy of bolstering ties with EU to ward off China while maintaining close relations with Russia work?
www.aljazeera.com
While some countries, such as Germany, have completely shifted their defence and energy policies to reprimand Russia and secure the European borders, others like India continue to maintain a relatively restrictive stance towards

old friend Russia

.

But after the Russian invasion hit India closer to home, with the

killing of an Indian student

in Ukraine's Kharkiv city, and hundreds of

Indian students

still awaiting evacuation, India's Prime Minister Narendra Modi is under pressure to condemn Russia's actions.

Last week, P Chidambaram, an Indian parliamentarian from the opposition Congress party, tweeted: "The Government of India should stop its verbal balancing act and sternly demand that Russia stop immediately the bombing of key cities in Ukraine."

Meanwhile, Modi has held talks with both Putin and Ukrainian President Volodymyr Zelenskyy and called for an immediate cessation of violence.

Yet, on the global stage, India has abstained five times so far from condemning Russia's actions at the United Nations and only reiterated a "commitment to the principles of the UN Charter, to international law and respect for sovereignty and territorial integrity of all states".
Delhi's immediate reaction to the crisis has been restrained, neutral and focused on ensuring the safety of its nationals inside Ukraine.
www.eastasiaforum.org
The India–Russia relationship is officially characterised as a 'special and privileged strategic partnership'. The entente between Moscow and Delhi dates back decades. Though the bond is no longer the de facto alliance it once was in the 1970s and 1980s, Moscow

remains

Delhi's an important strategic partner, on par with the United States. The two nations don't have any significant areas of disagreement and both share a fundamental interest in a multipolar balance of power in Eurasia.

India relies on Russia for the

majority

of its imported military equipment,

nuclear submarine

technology and some vital

space faring technology

. A highlight of India–Russian defence cooperation has been the US$5.43 billion deal for the S-400 air defence system, which Russia began delivering in December 2021. Russian-made weapons are critical to India's ability to counter its main external threat — China.
Western powers portray the conflict as a struggle between an imperialistic autocracy and a young democracy, but Delhi may not buy this narrative. India has always been somewhat sceptical about the US-led discourse on liberal democracy. This

remains the case

despite the Westernisation of Indian elites. Under Modi, India has been evolving in an illiberal and

ethno-nationalistic

direction. It is an open secret that India wants to

maintain

its sphere of influence in parts of South Asia.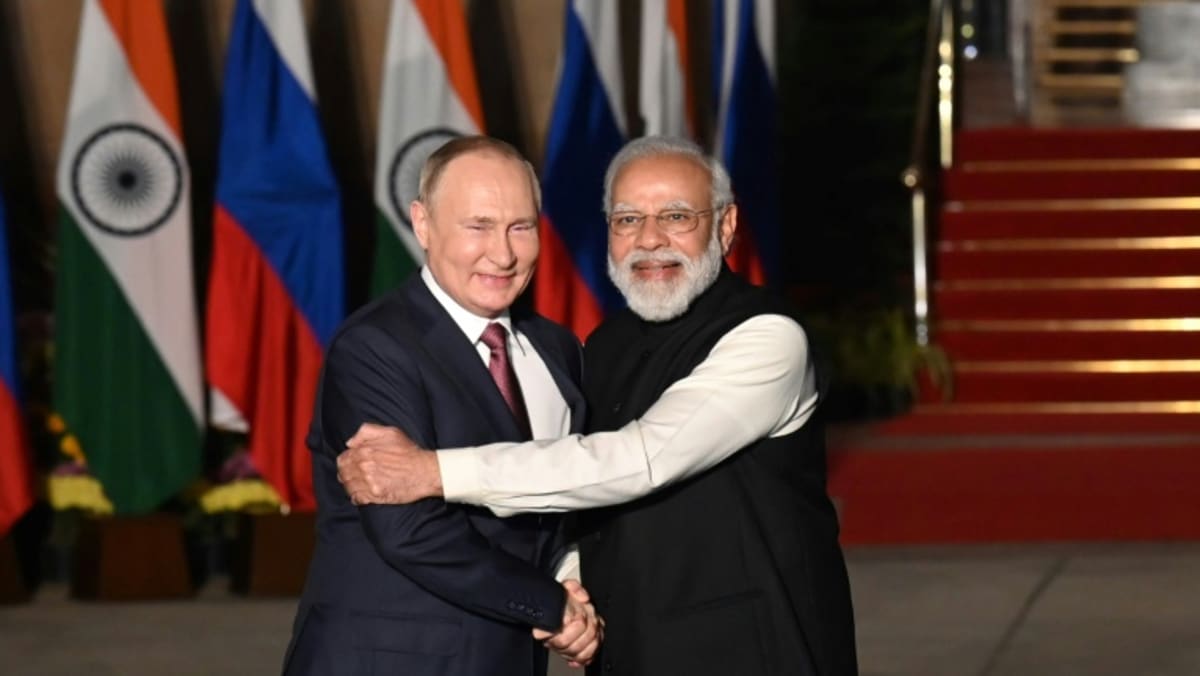 India has been building strategic ties with the West, but not joining its Quad partners in opposing Russia's invasion could jeopardise these links, warns Shashi Tharoor.

www.channelnewsasia.com
India abstained from a succession of United Nations votes – in the Security Council, the General Assembly and the Human Rights Council – condemning the Russian invasion. In its initial "explanation of vote", India did not even mention Russia or deplore the invasion.

Instead, India merely urged a de-escalation of the conflict by those involved, as if both countries were belligerents, when in fact there is an obvious aggressor and a clear victim. India did not even object to Russia's earlier recognition of the independence of the separatist Ukrainian regions of Donetsk and Luhansk.

In subsequent statements, Prime Minister Narendra Modi's government has at least reiterated India's longstanding principles, while calling for "concerted efforts from all sides to return to the path of diplomatic negotiations and dialogue".

In the face of mounting casualties – including an Indian student

killed by Russian fire

while queuing for food in Kharkiv – Modi's government continues to call in vain for peace, while ensuring that no criticism, let alone condemnation, of Russia passes its official lips.