Mother Siluana Vlad: How should we choose our life partners?​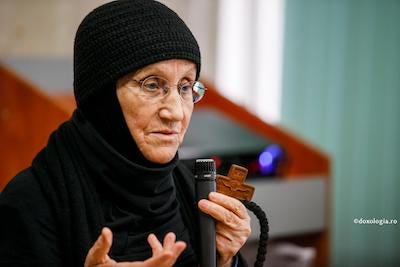 Question:
How should we choose our life partners?
Mother Siluana:
Like Adam! Do you know how Adam chose his wife? God put Adam to sleep, took his rib, made the woman, then he woke him up and told him: "Adam, choose a wife!".
This choice needs to be of the heart, of the mind, and of the body. Because by falling into sin, we broke up in little pieces: the heart wants something, the body wants something else, and the mind wants something different yet. And when we want to get married, we need to call all of these three into one. And we need to talk, to take counsel within ourselves with all three of them.
When it comes time to choose our life partner, the strongest voice belongs to the body. When someone is looking for her groom or for his bride - especially when a young man is looking for his wife - the body has some special vibrations. Nowadays people are confused and their bodies vibrate all day long, in all directions - if they see an advertisement, they vibrate, and the body doesn't know it is only an image on a screen; it produces the substances necessary for the wedding, and then it tosses and turns because it doesn't have a bride, since the TV is off.
And so, we need to be careful with what we do. We need to listen to the vibrations of the body. There is a certain special shudder that God put into the human body, a shudder that sings from the man to the woman and from the woman to the man, it doesn't matter what age - this shudder doesn't really disappear, only the way it is used changes.
This is the first voice: the voice of the body that shudders. Back in the days when these means of debauchery did not exist, these images of beautiful young men and women everywhere, this shudder didn't occur willy-nilly. Young people were carefully watched by the old women in the village. The grannies were standing outside the dancing circle with their rods, and they were leading the young women into the dance - the young women were switching partners all the time, so how much of a shudder could they feel? They had to pay attention not to stumble during the dance, so they didn't have time to feel much of a shudder. Then when a young man was inviting a young woman to dance, they couldn't get too close to each other, because the old grannies would start hissing. These folk dances are very elegant, very beautiful. Dancers were kept at a distance, but they were touching and they were yearning for each other. And little by little, people knew, by listening to the music of their bodies, which young man or young woman they were attracted to.
Then comes the voice of the heart. And the heart has feelings which last more than the shudder of the body - because this shudder of the body kind of wanes after the wedding, but the feelings remain. It is the love coming from the heart. And then we need to ask our heart: "Do you like him? I like him! Do you like her? I like her!" You see that she says something stupid. "Do you still like her? I like her!" You see that he spits on the floor. "Do you still like him? Well, I don't like him when he is spitting, but maybe he'll stop doing it if I marry him." And he spits even more after they get married.
So, pay attention to what your heart is feeling when you also see some unpleasant aspects in the other - because nobody is perfect, and we all have something unpleasant in us as well.
Then we need to think with our minds. If we get married, what are we going to do? Where are we going to live? What are we going to do when we have children? Are you going to love his mother too, or are you going to say that you have an evil mother-in-law? Are you going to love your brother-in-law who always meddles everywhere? So we are going to marry our whole family with their whole family. We will become relatives with his family, and the other way round. If we don't use our minds, we'll realize after the wedding that we didn't know he has seven brothers who all want to leave their village and study in the city and live with us. Well, you should have thought about that before you got married.
So you need to ask your body, your heart and your mind, and then you need to bring all three before God. And your spiritual father, who raised you in the Church up to that point - and you should both agree to see the same spiritual father - the spiritual father will counsel you: not who you should marry, not if you should marry George or not, but with God's grace which comes during Holy Confession, he will draw your attention to certain things that you need to think about and give over to God.
Then, you need to ask your parents and her parents. It is good to get the parents' blessing. Sometimes parents are against this marriage for reasons that make no sense to the young man or woman. They say that his nose is too big, and this doesn't make any sense, because I like him with his big nose. But parents have an intuition, they sense a danger for their child. And they don't know how to name it, they don't know exactly what they don't like in the other person. But they sense a danger and they warn you that it's not the best thing to do. It is good to have the parents' blessing. Of course, when parents judge things from a material point of view, and not from a spiritual point of view, the young couple can get married even without their parents' consent, and then they will get the blessing later - because the parents' hearts will soften.
But the most important thing is: what are we going to do after we have chosen him or her? We get wedded. The wedding produces the transformation of a young man and a young woman into husband and wife. A man and a woman are not husband and wife, they are man and woman. They can do what the husband and wife do after the wedding, but it is different. It is something that belongs to the body, something that is biological. After the wedding, the man's body and the woman's body are sanctified, and their relationship is holy. Children need to know that the physical relation between their father and their mother is sanctified, that it is holy.
The Mystery of the Orthodox Church is the Mystery of Transformation. The grace of God comes into the Orthodox Church and transforms something into something else: something from this world into something that is from God too. Bread and wine are transformed into the Body and Blood of Christ. A young man is transformed into a priest through the grace that comes over him, and not just because he puts on a black cassock and says he is a Father now. A young man and a young woman are transformed into husband and wife by the grace of God that they receive at their wedding. A sick person is sanctified through Holy Unction.
We need to pay attention to the services of the Church: the Holy Wedding Ceremony, the Divine Liturgy, the funeral service. During the wedding, we need to pay attention, we need to pray, to call to God, to say Amen, to say the prayers; and then the grace will descend over us. Grace comes to us anyway, but we don't make use of it! We make sure we look good in the wedding pictures, we look to see who is stepping on whose foot, who is the rooster and who is the hen in the couple - first of all the man is not the rooster, since he is a man and not a rooster!
So, we need to pay attention to the service, we need to pray, and then, when sorrows arrive - because we all bring certain habits from our families like a dowry: "in our family we used to do this… my father used to do this…my mother used to do that" - we need to discard all these things in order to become husband and wife and live well with one another. So first we need to discard the bad habits we learned from our father and our mother, but then we discover the defects of the other: he is a coward, he is lazy, she talks a lot - things that we discover after the wedding, and not because the other lied to us before, but the situation didn't present itself. If you used to meet for 2 hours a week, how long could one of you talk? Not more than 2 hours. But if you stay together 24 hours a day, of course things change. That is when we need to remember that we received grace at the wedding, and we need to say: "Lord, grant me to use the grace You gave me at the wedding so that I can love him or her!" A young man cried out to God a few months after he got married: "Lord, how can I love her, since I don't even know her! I didn't marry this person!" And he prayed and cried out to God. And God told him in his heart: "Love her as I love her! I love her, I died for her! This is how you should love her!" And this is what the grace that God gives us at the wedding does: it grants us to love what is impossible to love.
Then you need to remember that you need to love each other when you cook: "Lord, bless my husband!" When you embrace each other, pray: "Lord, give us the grace of wedding so we can love each other in your grace!" - and not looking at who knows what kind of images. And then you'll see what love is, you'll see what good life is.
So: prayer from the beginning until the end; and bring to God all the three things I mentioned.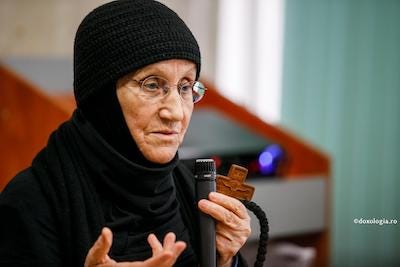 The Mystery of the Orthodox Church is the Mystery of Transformation. A young man and a young woman are transformed into husband and wife by the grace of God that they receive at their wedding.
romelders.substack.com