Crow
Orthodox Inquirer
Gold Member
Dubai would be a very specialized market. Not sure what will happen there. They build like crazy and eventually will run out of land/water yet they have accomplished some amazing feats.

Many of the older properties have reputations for having been built poorly. Many are not connected to sewers so they truck their waste out to the desert. But the older properties are probably better located, e.g. next to the sea, Dubai marina, etc.

Demand is strong for apartments targeted to entry level white collar workers, but softens in the summer with the heat obviously.

Many landlords require rent to be paid in an annual or quarterly payments; montly rent is the exception.

Supposedly you can finance a property there with a mortgage, but I'm not sure how that works with Sharia law.

Mostly Dubai has been managed well, e.g. no lockdowns, but things can change very suddenly there. War could break out in the Gulf, pandemic might impose travel restrictions, they import most of their food, they import most of their labor, etc. Many more wild cards there.

Still, I think Dubai is relatively undiscovered by North Americans and to a lesser extent wealthy Asians.
I've also heard about poor construction, but haven't seen any sign of it in buildings I've been in. The newer buildings seem to be a lot better quality than older ones. But I think that's just a combination of ageing and better materials. Haven't seen anything new that doesn't look nice.
Entry level for Dubai w/ gym and pool in the building is $57K, (a bit cheaper without):
**Lease hold Property of 32 years, 14 years finished remaining 18 years** Area : 971.72 Sq ft. Maintenance : 20.8...
www.propertyfinder.ae
Studio is ready to sale,Best investment ,Best deal. . in Lakeside towers by damac, IMPZ Community ! Call/What's...
www.propertyfinder.ae
Those are out of the way. The entry level for a main area is about $120K (studio).
There is lots more space for expansion, though much of the coastline is built on, about half of if (yellow area) is old town, from the 1960s onwards. Much of the main road (big yellow road closest to the sea does not have any skyscrappers. There are plenty of areas that can eventually make way. And from where they have built next to the main road, they can go further back.
And they are likely to put features into areas to make them more appealing, e.g the artificial lakes in Jumeriah Lake Towers: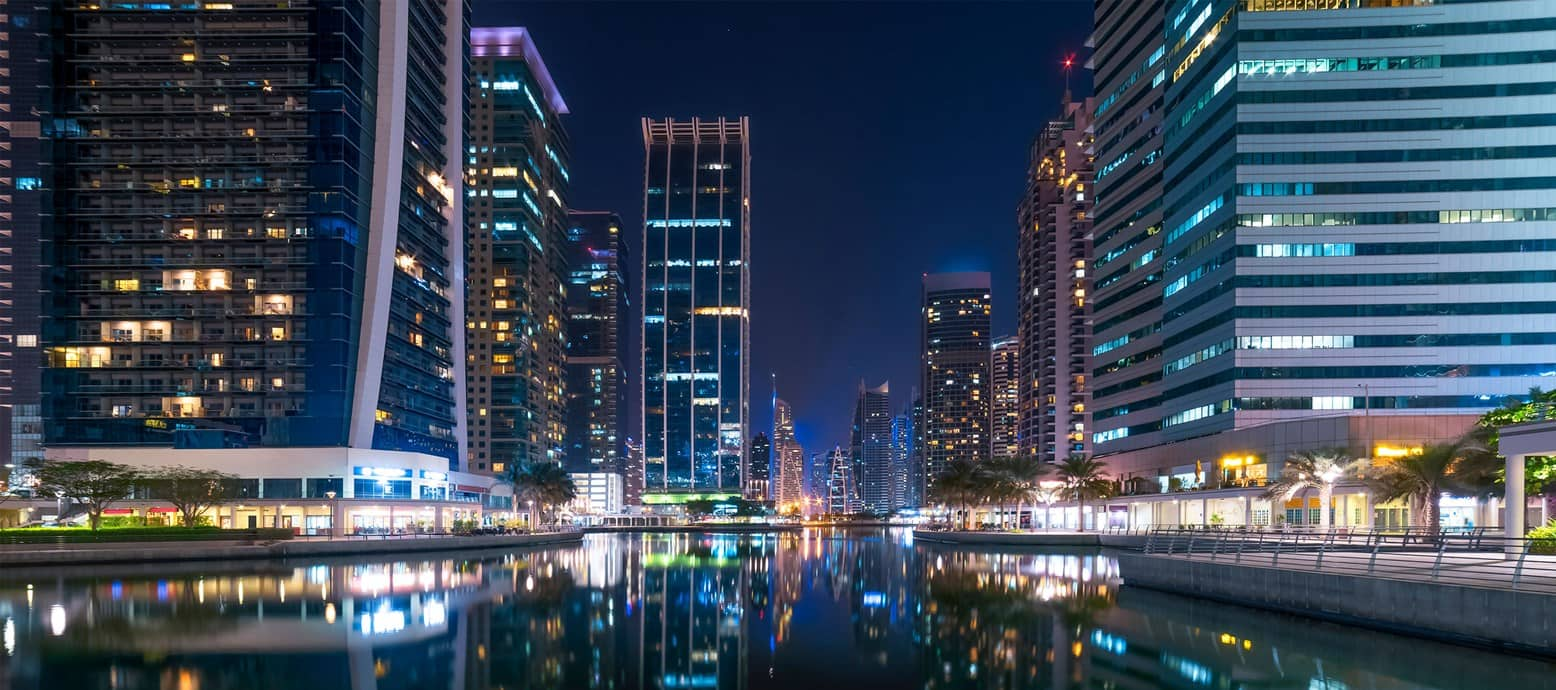 The red areas are high-value areas that are undeveloped or being developed now. It's probably going to take 10-20 years for them to be built, at which point there may be an appreciation in the higher-value areas.
Black area is industrial.
About the sewage trucks. It's old information. I can't find an exact number online, but all or most places now have normal sewage rather than trucks. I think about 50% had normal sewage in around 2010.
I don't know what the situation with Sharia and mortgages. I can't see any information, but all places that list property have a mortgage calculator.
The strange thing about food is that I have seen zero price inflation in over one year of being here. I don't know if that's about to change. But as examples - 1kg of avocados = $2.75, 1kg of dates = $1, 300g of stuffed vine leaves = $3. My electricity bill has also been unchanged. There is quite a lot of food that is grown out in the desert, which is relatively cheap and organic - tomatoes, cucumbers and dates in particular. From what I've read they want to dramatically increase that.